It's time for holiday shopping!  I used to care a LOT about wearing designer clothes.  In fact, my first real jobs were at Gucci, Saks Fifth Avenue and then at Barneys New York.  There is certainly nothing wrong with wearing designer clothes if it's within your budget.  Don't get me wrong, I still like nice things, but now rather than advertising designer companies on my shirt, I prefer to wear messages that promote my values of love & kindness, compassion & inclusion and environmental sustainability.
Here are a few favorites from my holiday wish list.  With these stylish tees and sweatshirts, you can metaphorically wear your heart on your sleeve!  Do you have any picks to add to my list?
Please share in the comment section below and spread the message of love and kindness in word and deed this holiday season and all year long!
Love, Emily xoxo
I am in LOVE with this cozy sweatshirt from Super Love Tees.  They make an entire line of amazing tees and sweatshirts with positive messages about love and compassion.
I love this cute style from Meaningful Paws.   It communicates what being vegan is all about in a fun, trendy way.  I have the t-shirt version of this style and I wear it all the time.

3. Be Kind Especially to Animals 
This hoodie from Herbivore Clothing Company is subtle and practical.  It's a cool way to spread the message of kindness everyday, while staying warm and cozy.
4. The World Used to Be Cooler – Fight Climate Change – Go Vegan
I LOVE this whimsical, but on point message tee from Herbivore Clothing Company.  Many people don't realize that the best way to fight climate change is by going vegan.  This tee communicates this in a cool, subtle and stylish way.  To learn more about how our food choices effect the earth, check out Dr. Richard Oppenlander's books here and lectures here.
This fun, inclusive tee from Equality NC Foundation tells folks that y'all means everyone.  There is no hate in y'all!  Equality NC Foundation also makes a great tee with the line, "Above All These Things There is Love".  Check them out!
This sweet tee by the Etsy shop, Wicket Good Vibes Tees, comes in both kids and grown-up sizes.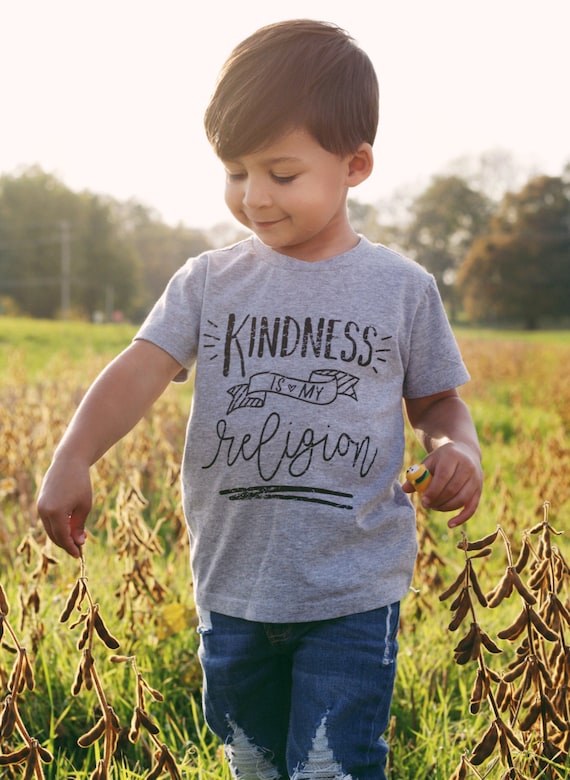 This affirmative tee by the Etsy shop MiniStreet, is a great way for kids to communicate a message of love and inclusion to classmates.